A fully comprehensive computerized platform where all the student related data can be stored, retrieved, monitored and analyzed. The data is saved in cloud environment which can be accessed by multiple persons and stake holders with secured access credentials, this ensures the safety of the stored information. With more 30 plus modules namely Registration, demand generation, admission, fees, attendance, gradebook, accounts, inventory, purchase, HR, payroll aid to students/staff and many other things can be managed with ease making the whole process of student enrollment quick, error free, systematic and undemanding.
With multiple lingual compatibility, delivered on today's devices, stable in fluctuating bandwidth conditions, providing Integrated, engaging and efficient product experiences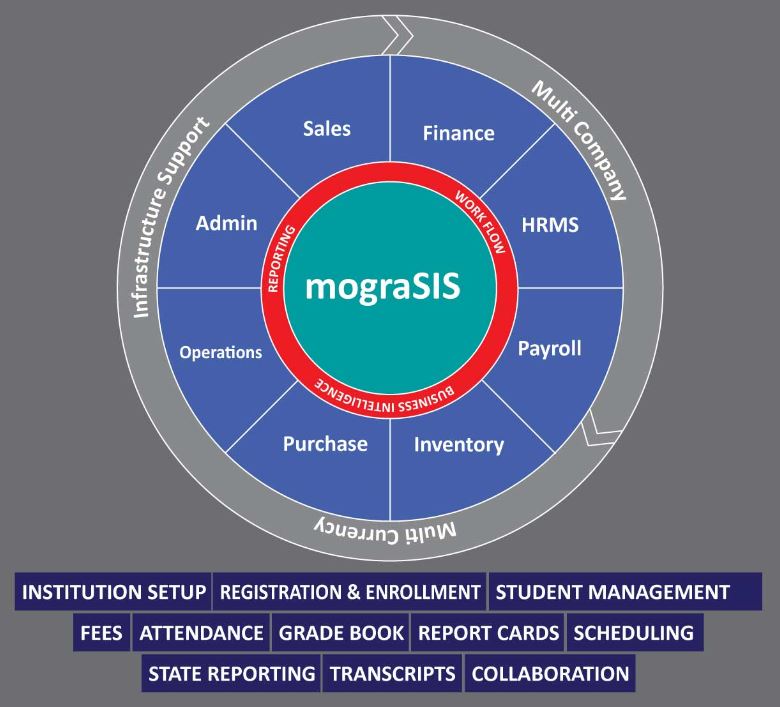 Enrollment @ Registrations
The system facilitates the students in applying and registering online along with the prospectus or the registration fee collection thereby eliminating any kind of physical attendance for the admission process. The registrar dashboard has all the features to complete the application Timely notifications and emails are sent to the students informing them about every admission process taking place online. Customization of this data can be done by the administration enabling them to be transparent in their allotment process as well as securing confidential data. Students can also keep track of their application through the earlier secured registration.
---
Fees
Parents and students pay the fees online via any mode of their choice through the parent portal gateway. This ensures hassle-free and error free collection of fees without any burden on the staff as well as the students. During the admission time at the start of academic year, you can feel the importance of this. Notification is sent after receiving the fee amount, making the transaction transparent and secure. Also, an email, SMS or push mobile APP alert can be sent to students with overdues. With integration of payment gateway that is best suitable for the country provides a secure fee payment platform for schools and higher educational institutes.
---
Gradebook, Transcripts and Report cards
The entire student examination is configured in a fraction of time with features to multiple copy across class or academic year. The faculty can effortlessly issue updated report cards, manage student's transcripts and obtain any information on the go. A student's progress can also be tracked with the help of various analytic tools and dashboards available, which also have various types of filters for varying uses. Students/Parents can view the report cards the parent portal gateway
---
Attendance
The whole system of students Registration & ID card printing, attendance recording, , daily alerts to parents, weekly & monthly attendance reports for teachers, MIS attendance reports, etc. There are different views and method to enter attendance. Teachers find the mobile APP interesting and easy
---
Why Use mograSIS Services?
With over 20 years of software development experience in the education domain , we are trusted via major educational campuses pan Middle East and Asia. We provide 100% reliable and complaint, ERP and student information management solutions. Schools and higher educational institutes have been and will be our first and only priority which makes us stand out. We have developed a deep understanding of how the educational sector works and what is the precise requirements. We cater to the needs and demands of the administration as well as the students and their parents.
---