Student Information Management Platform
mograSIS is a comprehensive student information management platform developed from the ground up to fulfill the needs of independent schools/colleges/institutions as they guide their students to success. The system integrates daily operations ranging from Prospects mgmt. to Admissions/Registration to Attendance, Grade book and Fees, Accounts, Faculty, HR, e-Learning, Library, Fleet modules gives a complete power that given a 360 degree view of institution. With a extensive research and experience in the education domain and experience of working with various international curriculum  for last 20 years is able to cater to all such requirements, that too in most user-friendly way.
With special self-monitoring approach of the processes, which helps school to minimize the cost of software implementation and operations.
Why mograSIS
School management System or Software is a software application interface working on internet cloud through which school/college/institution staff can manage their specific tasks which revolve around a student's life cycle. Be it an academic or a non-academic activity, the system should be capable of automating the whole process life cycle of that task/activity
Many tasks quite frequently, like result generation by teachers, Generation of financial statements by Account Department, Attendance Records, Admission, Enrollments by Registrar, Assignments, Worksheets by Teachers take a lot of time and eventually a large amount of data gathers that are to be maintained for years' as old data of all the students. A need arises that should help the school authorities to maintain this data in digital form.
Newer teaching methods like self-learning, distance learning is now a part of school activities and requires strong integration with core school application
Hence an effective school management software must serve to all such requirements which will help teachers, administrative staff, management and other outside mentors, staff to perform their duties with ease and will help them to focus on their core tasks and thus making the whole institution more productive.
Prospects Management
Registration and Enrollment
Student Management
Fees Management
Attendance Management
Library Management
Medical Records
Detention and Suspension
Grade book
MIS Reports
Report Card
Transcripts
Scheduling
Fleet 
Canteen Management
Facilities Management
Scholarship Management
Awards 
State Reporting
Notification
Collaboration
Fund Raising
Event Management
Accounts and Finance
HRMS
Payroll
Inventory
Purchase
Work flow
---
mograSIS Benefits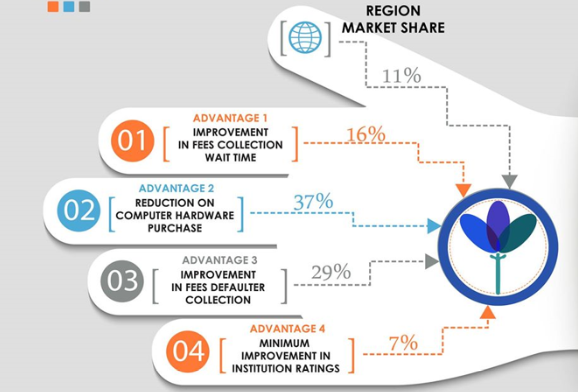 Improvement in Fees collection and delayed payment.
Non need to invest in-house computer equipment
Overall improvement in institution ratings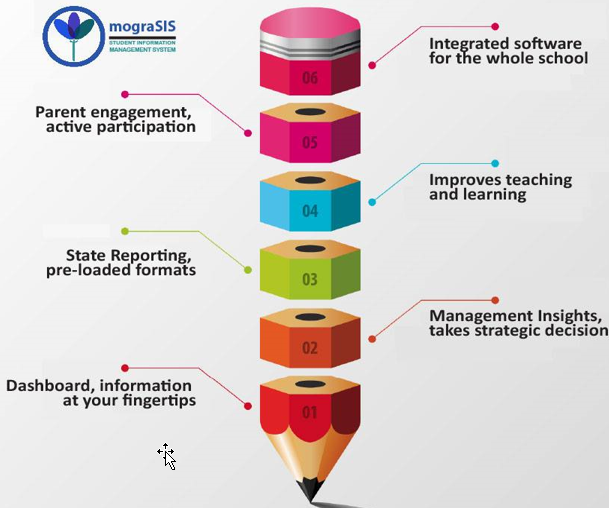 One integrated software for all departments
Parent engagement and active participation
Improves teaching and learning experience
Management insights for strategic decision
Dashboards and Information at will
Wide Coverage
A configurable environment for American Curriculum, British Curriculum, National Curriculum for England, K-12 school, CBSE, CBSEi, ISCE, Goa State Board, Pune University.
Supports English, Arabic and Thai with dynamic toggle from LTR to RTL
Modular Approach
To start, one can choose the basic mograSIS Lite version and gradually move towards the complete automation with our school management system.
SMS, Email, APP alert
Auto alerts integrated with every module of this school management system to make it self-monitored software solution. These alerts can be scheduled or at will.
ROI
The world-class features and deep understanding of various curriculum from in K12, BCE, NCE, CBSE, CBSEi, Goa State syllabus, Pune University is single configurable product. It is priced at the least cost while taking care of affordability of noble-caused institutions of education system.
The advantage of cloud offering requires zero investment on IT infrastructure at institution
Integration
Single sign-in with Microsoft office 365, Moodle (Learning Mgmt Sys), Classroom Mgmt Sys. and integration with various other systems like Bio-metric attendance system, Transport system, Existing website or an accounts system (Tally, etc.) makes it viable for any level implementation.
MIS
There are role based dashboards to give a snapshot view of the operations. These are Registrar, Fees, Finance, HR
Safe and Secure
The crucial data related to students and academics is equipped with all safety measures and is hosted on a TIER-4 data center
Support System System
Our pillar is the great support we provide from multiple offices in Dubai, Pune, Goa.
We believe more in supporting its existing patrons than just focusing on the clients count. Maintaining the resource-client ratio to 1:10 enables the schools to have dedicated and personalized support.
Easy Implementation
mograSIS takes the pain of data migration through the various inbuilt application tools . Institution need not worry about the implementation, just request us and will take care of the rest.
Organization is key in the classroom, but it's not always easy. mograSIS Teacher's APP allows you to keep a set of behavior records for each student in your care, offering a quick method for looking up and noting bad behavior, and letting you email specific incidents from directly within the app's main interface.
We strive to emphasize simplicity and speed of usage and listening to our schools, we understand the issues they face every day, helping us to strengthen and improve our products ans services to suit you. Success comes from excellent blend of domain knowledge, business model, technical expertise and ability to identify ourselves with the institution. MograSIS helps you as customer and end user by understaanding your processes, understanding your priorities in terms of business needs and social needs, re-engineering to adopt best practices, implementing various solutions to suit your requirements, training and developing your own resources, delivering the services to your desired end users & maintaining it over the period to translate into success. Entire approach of our team is towards your satisfaction.